The production method of fiberglass animal sculpture sculpture refers to the use of various plastic materials (such as gypsum, resin, clay, etc.) or hard materials that can be carved or sculpted, such as wood, stone, metal, jade, etc. , agate, aluminum, FRP, sandstone, copper, etc.), to create a certain space visible and tangible art image, to reflect social life, express the artist's aesthetic feeling and aesthetic ideal. Nanjing tian will introduce the production method of FRP sculpture.
Basically divided into two categories, namely wet contact molding and dry pressing molding. According to the characteristics of the process, there are hand paste molding, laminating molding, RTM method, extrusion molding, winding molding and so on. Hand paste molding also includes hand paste method, bag pressure method, jet method, wet paste low pressure method and amorphous hand paste method.
At present, the world's most used molding methods have the following four.
(1) Hand paste method: it is mainly used in Norway, Japan, Britain, Denmark and so on.
(2) Spray method: mainly used in Sweden, the United States, Norway and so on.
(3) molding method: mainly used in Germany, etc.
(4) RTM method (resin transfer molding) : mainly used in European and American countries, Japan.
There are: fiber winding molding, pultrusion molding and hot pressing molding.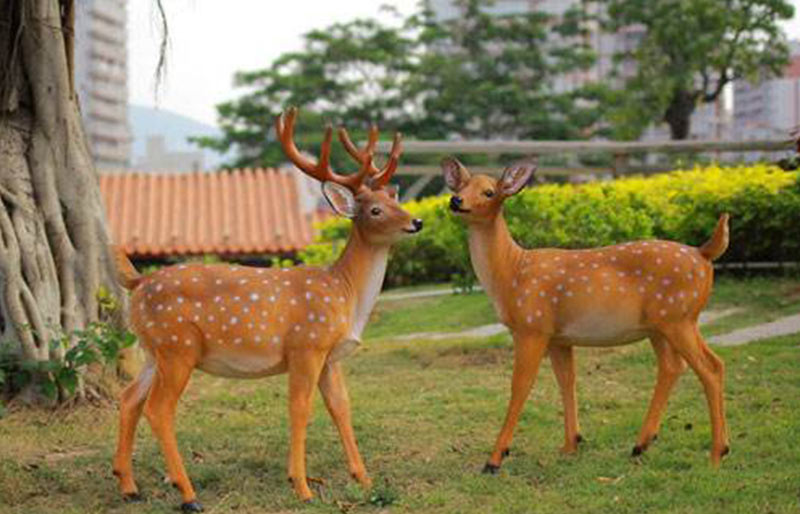 More than 90% of FRP products in Our country are produced by hand pasting. Other FRP products include molding, winding and laminating. Japanese hand paste method still accounts for 50%. From the countries of the world, hand paste method still occupies a considerable proportion, indicating that it still has vitality. Hand paste method is characterized by resin wet forming, simple equipment, low cost, can paste the overall product 10m above. Disadvantages are low degree of mechanization, long production cycle, quality is unstable. Our country has introduced extrusion, spraying, winding and other process equipment from abroad. With the development of FRP industry, new process methods will appear constantly.
Speaking of fiberglass animal, are you sure about this year's Halloween theme? The interior decoration with the theme of fiberglass deer statue may be a good choice. So this Halloween you may need a realistic glass steel animal series. They are very suitable for Halloween parties and easy to operate.